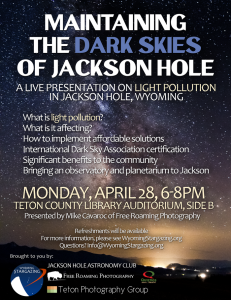 On Monday, April 28th at 6pm, local nature and wildlife photographer, Mike Cavaroc, will give a public presentation on the subject of light pollution and how it affects Jackson Hole. Specifics on the subject involve how it affects the region and local wildlife, how to implement affordable solutions, certification from the International Dark Sky Association and what that brings, as well as discussing Wyoming Stargazing's goals of constructing a scientific observatory and planetarium in Jackson and what benefits to the community this would all entail. The presentation begins at 6pm in Side B of the Teton County Library Auditorium.
Refreshments will be provided beginning at 5:30pm through a generous sponsorship from Quizno's. 
Looking forward to seeing you there!