Who We Are
We make the Universe come alive!
Wyoming Stargazing is a 501(c)3 nonprofit organization based in Jackson Wyoming that excels at making the often difficult to understand concepts of astronomy accessible to everyone. We offer public and private stargazing and astronomy programs as well as working with schools. You'll leave our programs with a new understanding of the Universe and a sense of how you are connected to everything in the Cosmos. Don't forget to look up!
Our Mission
The mission of Wyoming Stargazing is to inspire curiosity and learning through our extraordinary skies and the Universe beyond.
We know that learning about astronomy has a "wow factor" that can inspire and motivate learners of all ages to explore their world. Astronomy can be a "gateway science" for lifelong curiosity, learning, and exploration of all areas of knowledge.
Wyoming Stargazing provides engaging, entertaining, and educational programs for the many millions of visitors who come through Jackson Hole every year as well as for local residents. We're particularly interested in promoting nighttime family programming and in assisting our local school districts in promoting scientific literacy. We hope that we can light a spark for learners of all ages to heighten their interest in science and the amazing universe we inhabit.
Our Core Values
At Wyoming Stargazing we share a set of common values that guide everything we do. Whether it's internal meetings, a stargazing program at night, solar astronomy program during the day, planetarium program, indoor astronomy presentation, or virtual astronomy program, we share our passion for:
Our connection with the Universe
Scientific thinking
Our Goals
Land & Sky Acknowledgment
We acknowledge that we are living, meeting, teaching, learning, and enjoying the night sky as colonizers in the unceded and occupied territory of the Eastern Shoshone, Shoshone-Bannock, Northern Arapaho, Cheyenne and many other indigenous peoples whose past, present and future generations steward these lands and skies. The current arrangement of the stars into constellations that are drawn from the ancient Greeks, Romans, and Egyptians, as well as from European colonizers in South America are but one of a myriad of arrangements of stars into constellations created by native peoples living in every corner of the globe. Their arrangements of stars into constellations told their own stories and are no less valid than the currently accepted astronomical constellations. We acknowledge the deep connection to this place including the skies above it established and passed on through innumerable generations living and carrying out their hopes, their dreams, and their lives on these lands and under these skies from which they were forcibly removed. Their stories of the skies predate ours and contain much wisdom. We offer respect to their elders' past, present and future. We acknowledge the legacies of violence, displacement, migration and settlement that bring each of us together here in the present.
Anti-Discrimination Statement
Wyoming Stargazing does not discriminate on the basis of race, color, age, sex, gender, sexual orientation, socioeconomic status, religion, ethnicity, national origin, or disability in our hiring practices, in our programming practices, or in any other aspect of our organization. Despite our best efforts to provide equitable access to our programs, we are acutely aware of how economic disadvantages and other disparities can prohibit students from accessing learning opportunities in Science, Technology, Engineering, and Math (STEM) fields. We want to further our mission of educating and inspiring everyone by promoting Justice, Equity, Diversity, and Inclusion (JEDI) in STEM. We are also aware that there is currently an imbalance of power among the various demographic groups within our community and within our organization. We are actively trying to make that balance of power more equitable. We always strive to create safe and inclusive spaces for everyone through open and honest communication, compassion, deep listening, and patience. However, we are aware of our own limited perspectives and abilities to be perfectly culturally competent and to get it right every time. We therefore welcome feedback on how the Wyoming Stargazing community can continue to become a safer more inclusive space for all.
Our Vision
A World-Class Observatory and Planetarium in Jackson Hole
For several years, Wyoming Stargazing has advocated for and promoted an observatory and planetarium on the summit of Snow King Mountain. Now, Snow King Mountain Resort LLC. is bringing that vision to fruition. The facility will be completed by the fall of 2023. The Observatory will have a 24′ AshDome and a 1.0-meter PlaneWave telescope. The telescope will be one of the largest state-of-the-art telescopes in the world dedicated primarily to public outreach. The Facility will also include a Spitz 8-meter digital planetarium with 30-seat capacity, a classroom/theater space, galleries with interactive exhibits, and event space. The facility will be an iconic science learning center in the Rocky Mountain West. Wyoming Stargazing hopes to use this facility to reach our goal of impacting 1 million students through in-person and virtual programming by the year 2030. Check out the progress and initial renderings here!
Wyoming Stargazing Staff
Samuel Singer, PhD Science Education
Founder and Executive Director
Samuel grew up exploring the high desert in Yerington, Nevada, which is where he first fell in love with the night sky. Study for a B.A. in Physics and Astronomy took him to Hampshire College in Amherst Massachusetts. Samuel built a couple Dobsonian telescopes and helped to establish a small observatory at Hampshire College as part of his bachelor's degree. While at Hampshire, the deciduous forests of the east coast, led Samuel to discover his love for outdoor science education. He earned a Masters in Natural Science–Environment and Natural Resources by way of the Teton Science Schools and the University of Wyoming. Samuel built a second small observatory for the Teton Science Schools in Jackson Hole during his masters program. He has been recognized by NASA as a volunteer Solar System Ambassador, as well as by the IGES and NASA in their Top Stars program for an astronomy lesson plan he wrote. In 2013, Samuel completed his doctorate degree in Science Education from the University of Wyoming. His dissertation research focused on spirituality in outdoor environmental education. After wrapping up his dissertation he founded Wyoming Stargazing as a way to further his passion for helping others explore the Universe. On his time off, he enjoys meditation, backcountry skiing, yoga, and long distance running. Samuel currently splits his time between Jackson and the San Francisco Bay Area where he lives with his partner Becca, their daughter Simone, and two dogs, Monte and Grover.
Rick Gordon, PhD Education
Director of Education
Rick grew up in upstate New York and developed a love of learning and discovery as he journeyed through college in California, during which he took a semester off to hike the John Muir Trail and work on the edge of Desolation Wilderness near Tahoe. After college, Rick cycled across the US, led wilderness trips in New England and student bike trips in Europe, spent 6 months backpacking in Asia, and eventually settled for a time teaching history at the Putney School in Vermont. Amidst all these travel adventures, Rick received a MA in Organizational Leadership from University of Minnesota and a PhD in Education from CU-Boulder and went on to found the Compass School, an inspiringly idealistic school in Vermont for students in grades 7-12. Along the way, Rick also led outdoor programs for Outward Bound and Interlocken Center for Experiential Education, coached soccer and Nordic skiing, and spent a year traveling around the globe with his family. Rick brings years of experience working with educators at all levels, including extensive connections with schools and higher education on Service Learning (including editing the well-received Problem Based Service Learning Fieldguide: Making a Difference in Higher Education). Rick co-authored Transforming School Climate and Learning: Beyond Bullying and Compliance and has been a Humanities teacher, run several small businesses, and had the honor of visiting thousands of classrooms as an educational ethnographer and consultant over the years. He is thrilled to bring this wealth of experience to Wyoming Stargazing to learn along with the amazing educators involved with the program.
Stargazing Leaders
Our Stargazing Leaders come from coast to coast every summer to help you explore the heavens. They all have bachelor degrees in Astronomy, Physics, or related fields. In additional to being brilliant, they are also great story tellers. So, be sure to ask them all your burning questions about the Cosmos.
Nicole Riddle
Nicole is originally from Fort Worth, Texas. In May 2022, she received a bachelor's degree from Texas Christian University, majoring in Astronomy & Physics and minoring in Mathematics and Sustainability. She was part of an astronomy research group for three out of her four years at TCU and presented research on binary star detection at the American Astronomical Society meeting in January of 2021. Through college, Nicole spent her time working odd jobs such as floral assistant, substitute P.E. teacher, tutor, and legal assistant, but her love of astronomy education was inspired by her job as a guest experience host in the planetarium at the Fort Worth Museum of Science and History.
Rachel Fischer
Rachel is from Savannah, GA and moved to Jackson at the beginning of the summer to stargaze in Wyoming's beautiful night skies. She graduated from the University of Georgia with a bachelors in Astrophysics in the spring of 2022. She researched diffuse molecular clouds in the Milky Way as an undergraduate and is excited to continue pursuing her passion for Astrophysics here in Jackson with Wyoming Stargazing. When she isn't out studying the night skies, Rachel also works as a bus driver for a whitewater rafting company. In her free time, she enjoys hiking and baking.
David "JR" Dalby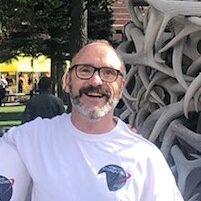 At a very young age, JR was interested in the sky. He has early childhood memories of the Apollo missions. Watching Neil Armstrong walking on the moon on TV started his interest in astronomy. His mom gave him his first Planisphere at the age of about 10. He spent countless nights looking at the stars and planets. He moved to Jackson in 2012 and became friends with Wyoming Stargazing. He started to volunteer at events, then lead public programs. Now, he leads private programs and shares his love of astronomy. His education is mostly self-taught though the voyage of discovery using a lot of resources including enrolling in Kahn Academy online Cosmology and Astronomy courses. JR looks forward to meeting you and enjoying the night sky.
Andy Vasquez
Andy is from Los Angeles, CA. He's had a passion for astronomy and stargazing since he was a child. Most of his knowledge was obtained through Astronomy classes at UC Santa Barbara and supplemented by documentaries, articles, books, and museums. Andy has been working with the Griffith Observatory for two years where he polished his knowledge and shares the secrets of the cosmos with peoples of all ages. He joined the Wyoming Stargazing team early in the summer of 2023 to better appreciate Jackson's darker skies and further share his enthusiasm for the stars and behold their unique unmatched beauty.
Benjamin Weiser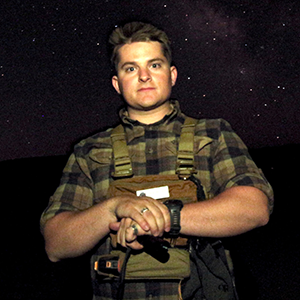 Ben hails from southern Ohio in the foothills of the Appalachian mountains. Always close to nature, he developed a love for the sky and the questions it implores us to ponder. From a young age, Ben found great fulfillment in sharing the human experience of the sky with others, which led him to Wyoming Stargazing after studying astronomy at Ohio State University. He now lives in Jackson year round and is happy to be a member of the local community. In his free time, Ben enjoys going to the gym, hiking around Jackson Hole, and experiencing local food and drink.
Josh Cook
Josh originates from Olathe, Kansas. In 2015 he graduated from the University of Missouri – Kansas City with degrees in Physics and Astronomy where he went on to work with an international research group studying the evolution of galaxies across cosmic time. In 2018 he spent a year working at a remote observatory under the dark southern skies of NSW, Australia. Following his passion for science communication and for the outdoors, he came out to Jackson in 2019 to work with Wyoming Stargazing. When he's not out leading programs, you can find him pouring the best lattes in town at both Picnic and Persephone Bakery.
Wyoming Stargazing Board Members
Ian Edwards, M.S. Applied Mathematics
President, Board Member
Ian is retired from a career in Electro-Optics spanning 32 years. He has a Degree in Physics and Masters of Applied Mathematics (Quantum Theory) from La Trobe University, Australia. During his time at La Trobe he was responsible for the Physics Department telescope mounted on the building rooftop. He has had a lifelong interest in optics and astronomy. He retired to Jackson Hole to pursue outdoor interests including hiking, biking, kayaking and astronomy in this remarkable environment.
Mike Adler, PhD Physics
Vice President, Board Member
Mike graduated from MIT in 1971 as a PhD in the area of solid state physics and worked at General Electric from 1971 until his retirement in 2000. Since retirement Mike has been active with the Institute of Electrical and Electronics Engineers (the IEEE, the largest technical society in the world) including being its president in 2003. Mike recently combined his hobbies of astronomy and photography and is taking astro photographs using his 6″ and 20″ telescopes in Wyoming. Mike has been giving talks on a number of topics in astronomy, geology, and travel to groups in New York and Jackson.
Kathleen Glover
Treasurer, Board Member
Kathleen Glover and her husband, Mike, have lived full time in Jackson since 2015, after splitting their time for several years between the Washington, D.C. area and Wyoming. Kathleen is a CPA and formerly worked as a finance director for Martin Marietta (now Lockheed Martin) and at public accounting firms in D.C. and Albany, New York. She was previously active in a number of charitable, educational and community organizations in the Northern Virginia area, as well as coaching several sport and academic teams. Kathleen is enjoying retirement in the Jackson area, and is excited about sharing her interest in the Wyoming skies with the community and visitors.
Liz Moseley
Secretary, Board Member
As a seasoned search professional with more than 12 years of experience, Liz has assisted more than 200 searches in higher education, for independent schools, and in the nonprofit sector, identifying and recruiting academic and administrative leaders.Prior to joining Storbeck/Pimentel & Associates, Liz served as a consultant in the Education Practice at A.T. Kearney. Previously, she served as a search coordinator at an international search firm placing senior executives in academic and nonprofit institutions for clients based in North America and abroad. Prior to entering the executive search industry, she held a position in the Regulatory Advisory Practice at KPMG Peat Marwick. Liz is active in a number of community organizations. She currently serves as the vice chair of the Teton Valley Ski Education Foundation (TVSEF) Board. In the summer of 2018 she led the search for the TVSEF executive director. She also works closely with the Jackson Hole Community School Gala Committee each year. She is the spouse of a retired Naval Officer and the mother of three boys. They enjoy spending time in the outdoors.
Brad Mead
Board Member
Mr. Mead is a Wyoming native, cattle rancher, and an attorney along with his wife Kate in the law firm Mead & Mead in Jackson. He is also the founder and CEO of Wyoming Whiskey. He currently writes a column for the Jackson Hole News & Guide and serves on various advisory boards. In addition, Mr. Mead is a passionate amateur astronomer, which has led to him to construct his own personal observatory and to become a Fellow of the Royal Astronomical Society.
Peta Roubin
Board Member
Peta Roubin has a background in health care and business, combining studies in both Nursing and Economics at Sydney University, Australia. Peta spent her career blending this background in the medical device industry, with her primary responsibilities developing and marketing medical products on a worldwide basis as well as in raising health care standards in some third world countries, including China and India. Peta has been involved in a range of nonprofit organizations, including homeless shelters, hospitals in New York City and in Jackson Hole. Her other interests include being involved in providing educational opportunities to all demographics in the Jackson Hole area, which is how she became connected with Wyoming Stargazing. She is an outstanding advocate of the science education programs we offer.
David Moxam, MBA and M.S. in Physics
Board Member
David Moxam is a Co-founder of Malibu IQ, LLC and serves as its Chairman of the Board. He also serves as Senior Advisor and partner at Manti Holdings. David served as Chairman and Chief Executive Officer of Authentix, Inc. until October 10, 2012. David is a successful entrepreneur with extensive experience in bringing advanced technologies to market. His expertise includes working in a senior executive capacity with a Fortune 500 Global leader and leading a small company through a period of dynamic growth as it established itself as a pioneer and a leader in a newly established industry. David leads a team of PhDs, engineers and industry experts who develop molecular and nanotechnology solutions which are utilized by 5 of the top 10 pharmaceutical companies. Prior to joining Authentix, David performed a technology turnaround at Goldman Sachs' Starpoint for which he won a Goldman Sachs Technology TurnAround award in 2000. Prior to this, he spent a decade building EDS' New York- based Global Financial Markets Group. David holds graduate degrees in Physics and Business Administration from Laurentian University in Canada.
Jim Rooks, M.S. in Education
Board Member
Jim is a fifth generation native of Jackson Hole, who graduated from Jackson Hole High School in 1990 and the University of Wyoming in 1995. "Jimbo," as most of his friends call him, went on to earn a master's degree in education and serve as a teacher, principal and athletic coach for 25 years. Jim has been recognized as Citizen of the Month, Everyday Hero and Teacher of the Year, several times over! He also founded the local chapter of the high school "We the People" program, which regularly earned state championships and national final qualifications. As of June 2020, Jim is the new Director of Community Engagement, who will offer both programming and leadership for the Wonder Institute.
David "JR" Dalby
Board Member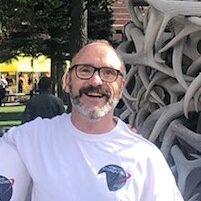 At a very young age, JR was interested in the sky. He has early childhood memories of the Apollo missions. Watching Neil Armstrong walking on the moon on TV started his interest in astronomy. His mom gave him his first Planisphere at the age of about 10. He spent countless nights looking at the stars and planets. He moved to Jackson in 2012 and became friends with Wyoming Stargazing. He started to volunteer at events, then lead public programs. Nowadays, he leads private programs as well as serves on the Board of Directors – in addition to being an Account Manager with Mountain Alarm in Jackson, WY.