Board Members
Ian Edwards, M.S. Applied Mathematics

President, Board Member

Ian is retired from a career in Electro-Optics spanning 32 years. He has a Degree in Physics and Masters of Applied Mathematics (Quantum Theory) from La Trobe University, Australia. During his time at La Trobe he was responsible for the Physics Department telescope mounted on the building rooftop. He has had a lifelong interest in optics and astronomy. He retired to Jackson Hole to pursue outdoor interests including hiking, biking, kayaking and astronomy in this remarkable environment.

Mike Adler, PhD Physics

Vice President, Board Member

Mike graduated from MIT in 1971 as a PhD in the area of solid state physics and worked at General Electric from 1971 until his retirement in 2000. Since retirement Mike has been active with the Institute of Electrical and Electronics Engineers (the IEEE, the largest technical society in the world) including being its president in 2003. Mike recently combined his hobbies of astronomy and photography and is taking astro photographs using his 6″ and 20″ telescopes in Wyoming. Mike has been giving talks on a number of topics in astronomy, geology, and travel to groups in New York and Jackson.

Kathleen Glover

Treasurer, Board Member

Kathleen Glover and her husband, Mike, have lived full time in Jackson since 2015, after splitting their time for several years between the Washington, D.C. area and Wyoming. Kathleen is a CPA and formerly worked as a finance director for Martin Marietta (now Lockheed Martin) and at public accounting firms in D.C. and Albany, New York. She was previously active in a number of charitable, educational and community organizations in the Northern Virginia area, as well as coaching several sport and academic teams. Kathleen is enjoying retirement in the Jackson area, and is excited about sharing her interest in the Wyoming skies with the community and visitors.

Liz Moseley

Secretary, Board Member

As a seasoned search professional with more than 12 years of experience, Liz has assisted more than 200 searches in higher education, for independent schools, and in the nonprofit sector, identifying and recruiting academic and administrative leaders.Prior to joining Storbeck/Pimentel & Associates, Liz served as a consultant in the Education Practice at A.T. Kearney. Previously, she served as a search coordinator at an international search firm placing senior executives in academic and nonprofit institutions for clients based in North America and abroad. Prior to entering the executive search industry, she held a position in the Regulatory Advisory Practice at KPMG Peat Marwick. Liz is active in a number of community organizations. She currently serves as the vice chair of the Teton Valley Ski Education Foundation (TVSEF) Board. In the summer of 2018 she led the search for the TVSEF executive director. She also works closely with the Jackson Hole Community School Gala Committee each year. She is the spouse of a retired Naval Officer and the mother of three boys. They enjoy spending time in the outdoors.

Brad Mead

Board Member

Mr. Mead is a Wyoming native, cattle rancher, and an attorney along with his wife Kate in the law firm Mead & Mead in Jackson. He is also the founder and CEO of Wyoming Whiskey. He currently writes a column for the Jackson Hole News & Guide and serves on various advisory boards. In addition, Mr. Mead is a passionate amateur astronomer, which has led to him to construct his own personal observatory and to become a Fellow of the Royal Astronomical Society.

Peta Roubin

Board Member


Peta Roubin has a background in health care and business, combining studies in both Nursing and Economics at Sydney University, Australia. Peta spent her career blending this background in the medical device industry, with her primary responsibilities developing and marketing medical products on a worldwide basis as well as in raising health care standards in some third world countries, including China and India. Peta has been involved in a range of nonprofit organizations, including homeless shelters, hospitals in New York City and in Jackson Hole. Her other interests include being involved in providing educational opportunities to all demographics in the Jackson Hole area, which is how she became connected with Wyoming Stargazing. She is an outstanding advocate of the science education programs we offer.

David Moxam, MBA and M.S. in Physics

David Moxam is a Co-founder of Malibu IQ, LLC and serves as its Chairman of the Board. He also serves as Senior Advisor and partner at Manti Holdings. David served as Chairman and Chief Executive Officer of Authentix, Inc. until October 10, 2012. David is a successful entrepreneur with extensive experience in bringing advanced technologies to market. His expertise includes working in a senior executive capacity with a Fortune 500 Global leader and leading a small company through a period of dynamic growth as it established itself as a pioneer and a leader in a newly established industry. David leads a team of PhDs, engineers and industry experts who develop molecular and nanotechnology solutions which are utilized by 5 of the top 10 pharmaceutical companies. Prior to joining Authentix, David performed a technology turnaround at Goldman Sachs' Starpoint for which he won a Goldman Sachs Technology TurnAround award in 2000. Prior to this, he spent a decade building EDS' New York- based Global Financial Markets Group. David holds graduate degrees in Physics and Business Administration from Laurentian University in Canada.

Jim Rooks, M.S. in Education

Board Member


Jim is a fifth generation native of Jackson Hole, who graduated from Jackson Hole High School in 1990 and the University of Wyoming in 1995. "Jimbo," as most of his friends call him, went on to earn a master's degree in education and serve as a teacher, principal and athletic coach for 25 years. Jim has been recognized as Citizen of the Month, Everyday Hero and Teacher of the Year, several times over! He also founded the local chapter of the high school "We the People" program, which regularly earned state championships and national final qualifications. As of June 2020, Jim is the new Director of Community Engagement, who will offer both programming and leadership for the Wonder Institute.

David "JR" Dalby

Board Member


At a very young age, JR was interested in the sky. He has early
childhood memories of the Apollo missions. Watching Neil Armstrong walking on the moon on TV started his interest in astronomy. His mom gave him his first Planisphere at the age of about 10. He spent countless nights looking at the stars and planets. He moved to Jackson in 2012 and became friends with Wyoming Stargazing. He started to volunteer at events, then lead public programs. Nowadays, he leads private programs as well as serves on the Board of Directors – in addition to being an Account Manager with Mountain Alarm in Jackson, WY.
If you're interested in joining Wyoming Stargazing's board of directors, please contact Executive Director, Samuel Singer, at Samuel@WyomingStargazing.org
---
Staff
Samuel Singer, PhD Science Education

Founder and Executive Director

Samuel grew up exploring the high desert in Yerington, Nevada, which is where he first fell in love with the night sky. Study for a B.A. in Physics and Astronomy took him to Hampshire College in Amherst Massachusetts. Samuel built a couple Dobsonian telescopes and helped to establish a small observatory at Hampshire College as part of his bachelor's degree. While at Hampshire, the deciduous forests of the east coast, led Samuel to discover his love for outdoor science education. He earned a Masters in Natural Science–Environment and Natural Resources by way of the Teton Science Schools and the University of Wyoming. Samuel built a second small observatory for the Teton Science Schools in Jackson Hole during his masters program. He has been recognized by NASA as a volunteer Solar System Ambassador, as well as by the IGES and NASA in their Top Stars program for an astronomy lesson plan he wrote.

In 2013, Samuel completed his doctorate degree in Science Education from the University of Wyoming. His dissertation research focused on spirituality in outdoor environmental education. After wrapping up his dissertation he founded Wyoming Stargazing as a way to further his passion for helping others explore the Universe. On his time off, he enjoys meditation, backcountry skiing, yoga, and long distance running. Samuel currently splits his time between Jackson and Boulder Creek California where he lives with his partner Becca, their two dogs, Monte and Grover, and a baby on the way.

Maggie Lindner, BA Psychology

Operations Director

Maggie Lindner is originally from southern California but moved up to Oregon in 2013 for school. She graduated from Pacific University with a Bachelor of Arts in Psychology, and her senior thesis was accepted to the 2018 Western Psychological Association's Convention. While in school and for a few years post-graduation, she worked at a salon and spa, eventually becoming responsible for overseeing all marketing, social media, inventory, operations, and client relations. She connected with Wyoming Stargazing in 2020 and fell in love with the organization; starting out as an Administrative Assistant and becoming the Operations Director in 2021. Maggie is proud to work with the Executive Director and Program Director behind-the-scenes on public and private programming.

Outside work, Maggie enjoys live music, paddle-boarding, running, hiking, watching horror movies, binging podcasts, exploring the outdoors, hanging out with her partner and playing with their three cats.

Gus Most, BS Astronomy & Astrophysics

Program Director

Gus comes from Bourne Massachusetts, and attended Villanova University in Pennsylvania. He received his bachelor's degree in astronomy and astrophysics, with a minor in physics. During university, he worked at Villanova's public observatory, and researched habitability of exoplanets. Gus came to Wyoming Stargazing for the first time in 2019, and spent the summer as a Stargazing leader. After he graduated in 2020, Gus spent 2 years living in Rhode Island working as an early elementary teacher. In the spring of 2022 Gus returned to Wyoming Stargazing as the Program Director. Gus enjoys any and all outdoor activities, mainly hiking, backpacking, rock climbing, biking, and fishing.

Rebecca Singer, BA Economics & Political Science

Financial Consultant

Rebecca is originally from Nevada and got her BA in Economics and Political Science in 2021. She is currently working on a MA in International Trade and Financial Crime Management at Middlebury Institute of International Studies in Monterey. She has spent short amounts of time in Jackson Hole over the years and is spending the summer working in the WYSG office on creating a financial overview and as many evenings as possible as a Guest Services Lead out on programs.
Stargazing Leaders
Our Stargazing Leaders come from coast to coast every summer to help you explore the heavens. They all have bachelor degrees in Astronomy, Physics, or related fields. In additional to being brilliant, they are also great story tellers. So, be sure to ask them all your burning questions about the Cosmos.
Brynn Miller
Brynn is originally from St. Charles, Illinois. She graduated with a B.S. in Astronomy and Astrophysics with a certificate in Planetary Sciences from The Ohio State University in May of 2022. In college, she worked in the planetarium on the Ohio State campus as a research assistant and an instructional aid. This is her first summer in Jackson and she's excited to be working as a Telescope Operator for Wyoming Stargazing.
Rachel Fischer
Rachel is from Savannah, GA and moved to Jackson at the beginning of the summer to stargaze in Wyoming's beautiful night skies. She graduated from the University of Georgia with a bachelors in Astrophysics in the spring of 2022. She researched diffuse molecular clouds in the Milky Way as an undergraduate and is excited to continue pursuing her passion for Astrophysics here in Jackson with Wyoming Stargazing. When she isn't out studying the night skies, Rachel also works as a bus driver for a whitewater rafting company. In her free time, she enjoys hiking and baking.
Ramona White
Ramona graduated from the University of Minnesota with degrees in Astrophysics and Computational Physics. She spent her academic career leading planetarium shows, researching the auroras of the gigantic planet Jupiter, and operating the O'Brien Observatory in -40 degree weather. This is Ramona's first summer living in Jackson, and she's eager to share the charm of the night sky.
Nicole Riddle
Nicole is originally from Fort Worth, Texas. In May 2022, she received a bachelor's degree from Texas Christian University, majoring in Astronomy & Physics and minoring in Mathematics and Sustainability. She was part of an astronomy research group for three out of her four years at TCU and presented research on binary star detection at the American Astronomical Society meeting in January of 2021. Through college, Nicole spent her time working odd jobs such as floral assistant, substitute P.E. teacher, tutor, and legal assistant, but her love of astronomy education was inspired by her job as a guest experience host in the planetarium at the Fort Worth Museum of Science and History.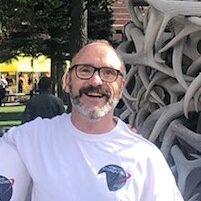 David "JR" Dalby
At a very young age, JR was interested in the sky. He has early
childhood memories of the Apollo missions. Watching Neil Armstrong walking on the moon on TV
started his interest in astronomy. His mom gave him his first Planisphere at the age of about 10. He spent countless nights
looking at the stars and planets. He moved to Jackson in 2012 and became friends with Wyoming Stargazing.
He started to volunteer at events, then lead public programs. Now, he leads private programs and shares his
love of astronomy. His education is mostly self-taught though the voyage of discovery using a lot of
resources including enrolling in Kahn Academy online Cosmology and Astronomy courses. JR looks
forward to meeting you and enjoying the night sky.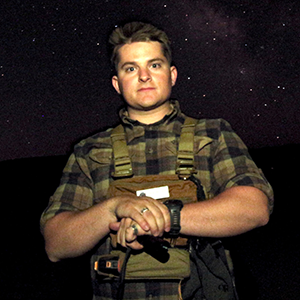 Benjamin Weiser
Ben hails from southern Ohio in the foothills of the Appalachian mountains. Always close to nature, he developed a love for the sky and the questions it implores us to ponder. From a young age, Ben found great fulfillment in sharing the human experience of the sky with others, which led him to Wyoming Stargazing after studying astronomy at Ohio State University. He now lives in Jackson year round and is happy to be a member of the local community. In his free time, Ben enjoys going to the gym, hiking around Jackson Hole, and experiencing local food and drink.
Dave Martin
Dave Martin grew up under the mountains of the greater Seattle area. He developed an intimate connection with the Cosmos at a young age thanks in part to his dad taking him into the mountains to watch meteor showers and locate constellations. He also has his mom to thank for her love of science fiction, which made his imagination run wild with what could be out there.
His goal is to help others connect with this part of nature, and help people to understand that we are not only tiny specks in the vast cosmic arena, but living, breathing, fractals of the universe pondering its very existence.
Josh Cook
Josh originates from Olathe, Kansas. In 2015 he graduated from the University of Missouri – Kansas City with degrees in Physics and Astronomy where he went on to work with an international research group studying the evolution of galaxies across cosmic time. In 2018 he spent a year working at a remote observatory under the dark southern skies of NSW, Australia. Following his passion for science communication and for the outdoors, he came out to Jackson in 2019 to work with Wyoming Stargazing. When he's not out leading programs, you can find him pouring the best lattes in town at both Picnic and Persephone Bakery